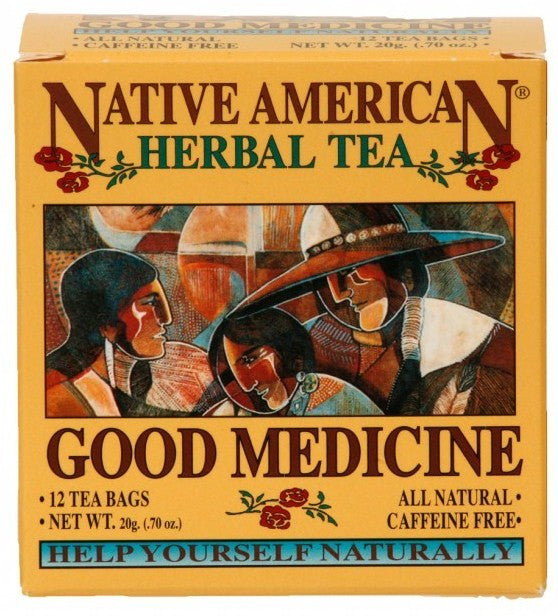 Good Medicine - Native American Herbal Tea 12ct (6 pack)
Regular price $21.00 Sale
Good Medicine - Native American Herbal Tea
Good Medicine
Help Yourself Naturally
Native Americans believe that in order to have good health you must first learn to live your life in complete balance with the natural laws set forth by the Creator. Included in these laws are to have respect for nature, to possess a kind heart, and to have high moral standards. These and other beliefs are what Native Americans call "Good Medicine." American Indians believe that Mother Earth has provided us with plants and herbs that are essential in maintaining good health. Our Good Medicine tea is a blend of spearmint, eucalyptus, wood betony, and other natural herbs that are said to lift your spirits and bring you many good thoughts and feelings. It has a surprisingly minty flavor, which helps open up the breathing channels. 
Naturally caffeine & gluten free.
 Ingredients: Spearmint Leaf, Blackberry Leaf, Wood Betony, Linden Leaf & Flower, Rosemary, Eucalyptus Leaf, Ginseng Leaf, Licorice Root & Natural Orange Flavor.  
Blended in the USA.