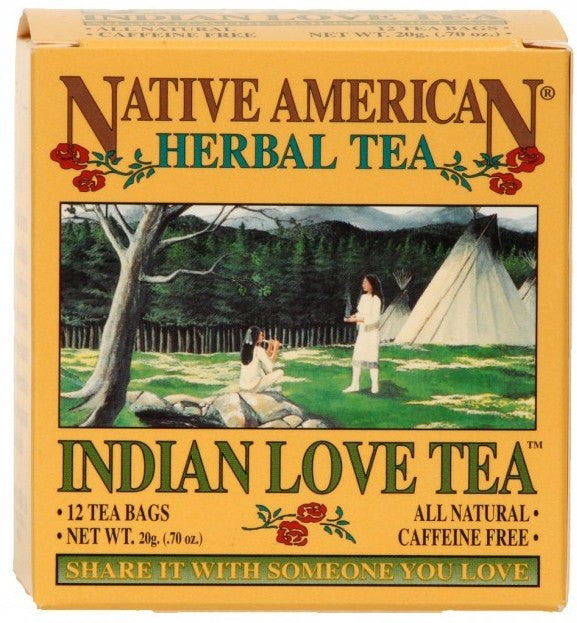 Indian Love Tea - Native American Herbal Tea 12ct (6 pack)
Regular price $21.00 Sale
Indian Love Tea - Native American Herbal Tea
Indian Love Tea
Share It With Someone You Love

In the Indian culture, when a young man fell in love with a woman, he went through certain procedures. First, he would go to her father with gifts, as was the traditional way. If the father approved of the young man and consented to give his daughter to him, the young brave would start his courtship. He would use his flute to play courting songs while the woman was inside her teepee. Often this would go on all night. Each brave had his own song that he would play for a woman, and it was usually a special song played only for her. If the woman liked the young man, she would prepare a special blend of tea. We call this blend our Indian Love Tea. She would then come out of her teepee to the sound of the music and offer the young brave a cup of tea, a sign of mutual admiration.    
With a mellow ginger flavor, our Indian Love Tea is a rich blend of natural herbs, including damiana, ginseng root, and muira puama. It is excellent for overall health and contains natural stimulants, and is caffeine and gluten free.
Ingredients: Blackberry Leaf, Sarsaparilla Root, White Oak Bark, Rose Flower, Eleuthero (Ginseng Root), Muira Puama, Elecampane, Angelica Root, Marjoram, Licorice Root, Echinacea (Missouri Snake Root), Ginger Root, Damiana, Bergamot oil.
100% all natural.  Blended in the USA.